China's Television War on Japan
"More than 70 anti-Japanese TV series were screened in China in 2012... How would it be possible to not to hate Japanese?"
-
http://www.nytimes.com/2014/02/10/opini ... .html?_r=1
Japanese Broadcast Official: We Didn't Commit War Crimes, the U.S. Just Made That Up
-
http://world.time.com/2014/02/07/japane ... z2scnENY7k
I'm seriously starting to get tired of these retards. Same shit for more than 65 years now.
Japan commits some horrible crimes in WWII, forgets to tell their own citizens about it. Korea and China are not happy. Japan avoids making apologies, instead pays millions in money to Korea and China. Korea and China are not happy, but accept the money anyway, of course forget to tell their own citizens about it. China drops their claims for further compensations. Later Chinese politics change and they begin anti-Japan propaganda + keep faking Nanking proof - even though no one ever doubted it in the first place. Japan sends a prime minister to apologize in Korea - and pay more money. Korea is not happy - accept the money anyway, forgets to tell its people. Meanwhile Japanese prime ministers come and go - and their apologies "fade into air".
Fast forward to 2013.
Japanese citizens are aware they were the bad guy in war; though the dirtiest details remain a bit fuzzy to them. They are, however, well informed about how many times Japan has paid money (to Korea especially). As according to the new government policy, the Chinese are systematically coached to hate "the Japanese devils". China loudly critisizes Japan for their military expenditures, while at the same time spending far greater amounts of money in their own military. Japanese citizens begin to get frustrated as they feel China and Korea will never forgive them, just ask more money.
For the Japanese kneeling down and begging for forgiveness in a society that values face and collectivity becomes ever more difficult - after all, the current politicians were not even born when the events they are supposed to take responsibility of took place. Every few years someone takes advantage of it and earns himself a small but loud bunch of supporters by saying
"we didn't do Nanking, the Chinese made that up"
. And the fucking retard government, who changes prime minister every year, makes no effort to control such stupidity.
I hate to see the new nationalist rising in Japan, but sadly I can understand perfectly why it's happening. It only makes perfect sense under the circumstances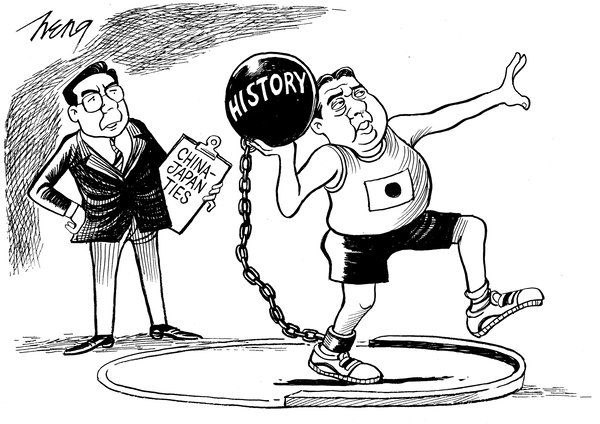 Wouldn't they just stick to Sora Aoi's AV and everybody be happy wanking?