Sister Street Fighter: Fifth Level Fist (Onna hissatsu godan ken) (1976)
Fifth Level Fist is not a direct sequel although it's considered the fouth part in the Sister Street Fighter series. All the characters are different and we a have a different theme music, too. Speking of music, the new theme is wonderful and far superior to the "Sister Street Fighter" theme. Many other single tunes throughout the film are impressive as well so this is very good soundtrack. Stylistically the film is much less rough than the other Sister Street Fighter movies. There's plenty of humour, a little bit of romance and much less graphic violence. There is some serious themes of racism, though. The quality of action remains high too, although for the first time in the series Etsuko does not get to handle nunchucus. Someone else does though, and without spoiling anything lets just say that brief scene blew my mind.
Unlike in the previous films, here Etsuko really gets to act sweet and kawaii. Seeing her giggle like a little girl and wear kimono and then kick some ass in the next scene is just the kind of combination I like. The cute "hippie Etsuko" scene is probably my favourite scene in the whole movie. More cuteness is offered in form the lovely Michi Love who takes part in some action scenes, too. She also gets to speak plenty of english which is a big plus. The scenes between her and her brother (the excellent Ken Wallace) are all excellent and really the heart of the movie. This is one of those rare martial arts films where you actually care about the characters.
More great actors can be found in the supporting roles. One of the villains in played by Claude Gannyon, who was the american villain in Return of the Street Fighter. Another familiar actor from The Street Fighter series is Masafumi Suzuki who plays Etsuko's dad in this film. There's also some scenes that are set in a movie studio and while some of the actors look familiar I'm unable to recognize them. Those who are more familiar with the older Toei films will probably spot a reference or two in those scenes. Myself I need to get back to this film in a few years...
The Toei dvd is quite pleasing. The last time I was maybe a little bit too critical on it. It requires some sharpness boosting on your part but after that it'll look very natural and not too soft. A comparison between the Ronin Ent. release and the Toei dvd can be found
here
. The R1 may be a little better, but I'm perfectly happy with my Toei. The extras are the usual ones; original trailer and a picture gallery. And finally, Toei seems to have used the great original poster as cover art.
dvd menu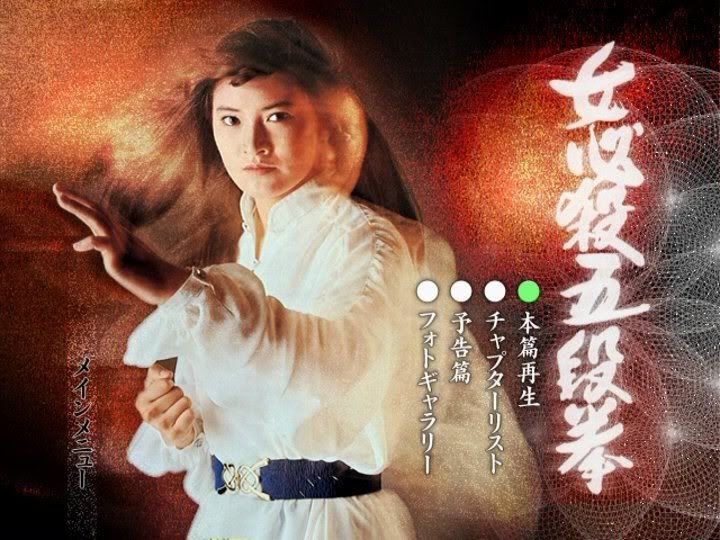 photo gallery
original trailer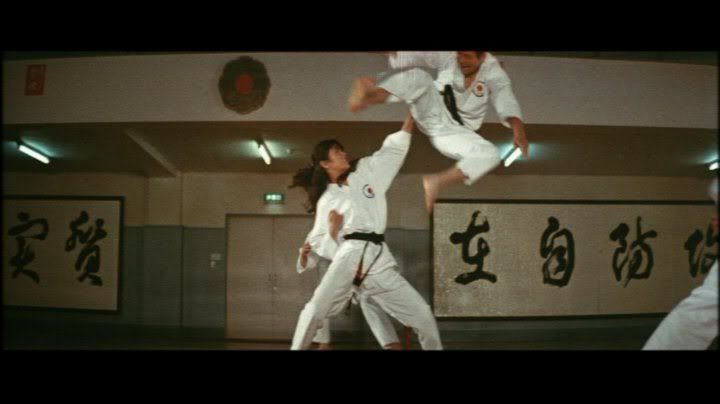 the film