I've been postponing this thread for ages, but it doesn't seem like I'll be able to get all of Yamashita's movies in my hands anytime soon. I'll just post some info on the ones I've got now - at the risk of not always knowing what I'm talking about - and go back in chronology later some day, some year, when I've get the chance....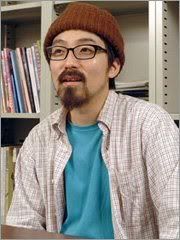 Brief introduction
Nobuhiro Yamashita – the most interesting Japanese director of the late 90's / early 2000's – has often been compared to Aki Kaurismäki and Jim Jarmusch. Yamashita makes low key comedies about losers who haven't found their place in society. An IMDB user called Yamashita's film Realims no yado an "ultra-quiet comedy of microscopic humiliations" which is a good description of Yamashita's Osaka-period films. However, Yamashita isn't mean to his characters but shows great compassion towards them. Usually his misfortunate heroes feel rather comfortable with their little insignificant lives. These characters are also much influenced by the director himself, who often identifies himself with the main protagonists.
Yamashita made his silver screen debut with the Osaka set slacker film Hazy Life in 1999. It was followed by the similarly themed No One's Ark (2003) and Ramblers (2003). In 2004 Yamashita moved to Tokyo, and the style of his films changed a bit. He started dividing his time between big mainstream pleasers such as Linda Linda Linda (2005) and Tennen kokekko (2007), and interesting smaller audience films like the hentai manga adaptation Cream Lemon (2004) and Matsugane ransha jiken (2006). While these films retain high quality, they are not quite as brilliant as the Yamashita works born in the the Osaka indie scene.
What has gone below most people's radar is Yamashita's work outside feature length movies. He has done a lot of short movies, television work and even fake documentaries. One of his most recent works is the Jikken 4 gou project where Yamashita collaborated with novelist Kotaro Isaoka, both men using different mediums (film / novel) to tell story. Generally speaking these smaller projects aren't on part with Yamashita's feature length movies and often feel very experimental. But that's how Yamashita likes to work; to accept challenges and see if he can pull it off. Also, aside directing, screenwriting and producing Yamashita does some acting. He has played small parts in movie such as P Kan Couple (2005) and Have a Nice Day (2006), and also often makes cameo appearances in his own movies.
Yamashita often works together with his old friends that include Kosuke Mukai - who has written most of his movies – and actor Hiroshi Yamamoto who starred in all three of Yamashita's major Osaka films. Another famous person Yamashita knows from his student years is the 'pink director currently making mainstream breakthrough' Ryuichi Honda. Honda's film Watermelon (2005) actually stars Hiroshi Yamamoto. Yamashita has stated that Linda Linda Linda (his big Tokyo / mainstream breakthrough) was the first film he shot with a crew that he didn't know from his college years....
Partial director filmography:
Kusaru onna (1997) (Short film)
Donten seikatsu (Hazy Life) (1999)
Baka no hakobune (No One's Ark) (2003)
Realism no yado (Ramblers) (2003)
Sono otoko, kyobo ni tsuki (The Most Dangerous Man Alive) (2003) (Short film)
Fusho no hito (2004) (OV)
Cream Lemon (2004)
Anatakikou: Lilly (2005) (Music video)
Linda Linda Linda (2005)
Yume juya (2006) (Episode 8: 'An Eighth Night of Dreams')
Matsugane ransha jiken (Matsugane Potshot Affair) (2006)
Chugakusei nikki (2006) (Short film / OV)
Tennen kokekko (A Gentle Breeze in the Village) (2007)
Jikken 4 gou: It's a small world (Short film)
Camouflage (2008) (TV series) (Chapter 3)
Shukan Maki Yoko (2008) (TV series) (Episode 4: Nakano no yujin)
Warera tenka wo mezasu (2008) (Short film)
Mecha kowa Vol. 1 (2009) (OV)
Mecha kowa Vol. 2 (2009) (OV)
Mecha kowa Vol. 3 (2009) (OV)