mini review:
Flashback Memories 3D (2012)
Perhaps the first film with meaningful use of 3D, courtesy of genius documentary filmmaker Tetsuaki Matsue. A fitting follow up to his superb Tokyo films Live Tape (2009) and Tokyo Drifter (2011), Matsue focuses on musician Goma who lost his memory some year back. Utilizing 3D technology, Matsue sets a live concert in the front, and re-creates Goma's past in the background in 2D. Talking heads are nowhere to be found as Matsue uses archival footage, personal interpretations, and even animation. In the end, the viewer is not quite sure whether he witnessed a documentary or a live concert – or both. An original and successful film, though the visual information flood can be a bit much and Goma's music is not for everyone.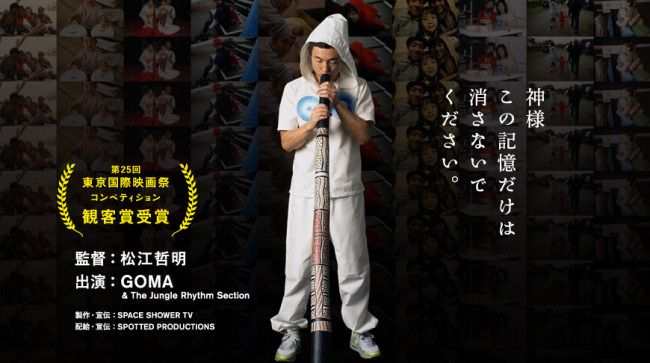 site:
http://flashbackmemories.jp/
HungFist wrote:

Birthright (Saitai)

Terrible taglines and posters, unpromising subject, the trailer nevertheless looks intriguing:

http://www.youtube.com/watch?v=ao7bA1xn2zc

-

http://www.saitai-film.com/index_e.html

-

http://www.elevenarts.net/Feature/Titles/Birthright/

Festival screenings so far, dvd presumably sometime this year.

via

AVManiacs / Sheldon Warnock

The director's previous film, Hikari sasu umi, boku no fune (ヒカリサス海、ボクノ船 ), doesn't look that good, though:

http://video.jp.msn.com/watch/video/...B7%A8/1m4w8h3o
This just came out on rental-only dvd in Japan. I will review it when I find time.