HungFist wrote:
What a crazy Toei year it is...
... and it just got crazier. November: 4 Hiroyuki Sanada films, including the long awaited Roaring Fire, and Shadow Warriors season 2
-
http://adg.invisionzone.com/index.php?s ... =522&st=97
And more excellent news; Criterion picks seven Nikkatsu action titles, including A Colt is My Passport.
-
http://twitchfilm.net/site/view/criteri ... -passport/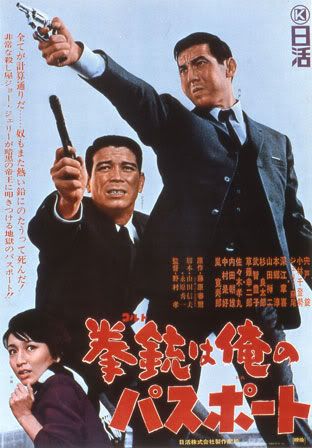 +
Kino grabs Suzuki's Detective Bureau 2-3: Go to Hell, Bastards! and Bakuhatsu sanbyomae.
-
http://outcastcinema.blogspot.com/2008/ ... pdate.html
-
http://www.avmaniacs.com/forums/showthr ... 183&page=2
************************************
Toei's low priced batch is coming November 1. There seems to be at least a lot of yakuza films, a couple of Hideo Gosha movies (Tokyo Bordello, Wives of the Yakuza + non-Gosha sequels) some pink (School of the Holy Beast, Mantis Wife's Confession) etc. No Abashiri Prison unfortunately...
http://www.cdjapan.co.jp/newrelease/jmo ... 2008-11-01
Kadokawa's low priced dvds hit the streets October 24th. Sailor Suit and Machine Gun (original threatrical cut, almost certainly), Resurrection of the Golden Wolf, Beast to Die, The Little Girl Who Conquered Time (Obayashi), Legend of the Eight Samurai etc. Note that many of these are available in R1 and / or R3 HK. The R1 dvds should about the same quality, but as mentioned before in this thread, the IVL HK discs feature shitty encoding and badly timed subtitles.
http://www.cdjapan.co.jp/newrelease/jmo ... 20&step=20
I need to get The Little Girl Who Conquered Time at least. I've been meaning to get rid if the poor HK disc. Tomoyo Harada's face deserves a solid transfer!