From
Outcast Cinema
(check the link for the whole article, which includes a mention of a possible future pinky release (EDIT: he was talking about Bohachi Bushido))
"During the past week in Tokyo, we did a series of interviews with famed Toei sexploitation director Norifumi Suzuki."

"Suzuki-kantoku was kind enough to join us on successive Sundays at the amazing Laputa Cinema in Asagaya, on the west side of Tokyo, and spent several hours with our camera crew discussing his career and films. The interviews will appear on two DVDs due out next year, the initial one being the fourth Sukeban film, to be released by Media Blasters in February under the title Girl Boss: Revenge. Later in the spring, Discotek Media will release Suzuki's jaw-dropping, solitary entry into the Roman Porno genre, Star of David: Beauty Hunting."

"Suzuki sat with Japanese film critic and cult film writer Kiichiro Yanashita for a full-length audio commentary for Star of David, to be included on the Discotek disc. Not only is this the first time Suzuki has done a commentary, we believe it's the first time a Roman Porno director has done a commentary for one of his films! Of course, the commentary was conducted in Japanese and will be presented on the disc with English subtitles. Fans of Suzuki and of the Roman Porno genre in general should be very pleased."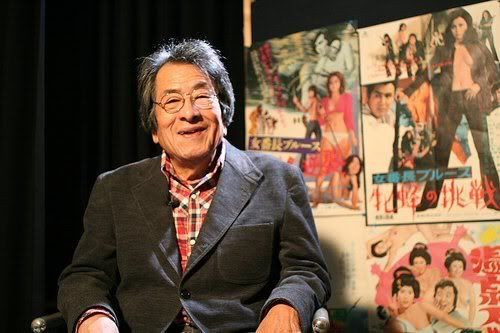 Photo from
Yanashita Kiichiro's blog