The box set is nice (pink of course) and not too big. It opens like a book and carries 4 dvds, a cd and a 26 page booklet written by Chris D. The booklet is decent but hardly great. Chris D goes though the movies and the series they are a part of (spoiling the endings almost every film) and writes something about the genre's history. If you've read his liner notes on the Panik House dvds then there isn't much new in this booklet. It's should still be useful for those not very familiar with the genre and not afraid of spoilers.
The audio cd is called Reiko Ike no miryoku and features 15 tracks of singing and, uhm, moaning by Reiko Ike, apparently recorded in 1971 (not in the mid 70's like Panik House claims). While some of the content wasn't exactly to my liking (thanks to the moaning) I found some of the later track pretty good. The opening track also gets better every time I hear it. The ideal way to experince this music would've been back in early 70's alone in a small shabby hotel room in Tokyo in the middle of the night with the lights off. Or that's at least the image that comes to my head when listening to the cd.
The inclution of the cd is great of course but there's some issues. First of all, it was apparently not licensed, and secondly, it was sourced from a cassette tape. Track listing is also nowhere to be found, and the liner notes feature mistakes as mentioned before. Official japanese cd release titled 'Koukotsu no Sekai' should feature the same content, and should be an improvement on all areas. The liner notes are even in english (as well as in japanese). Read more here:
http://adg.invisionzone.com/index.php?s ... c=98&st=40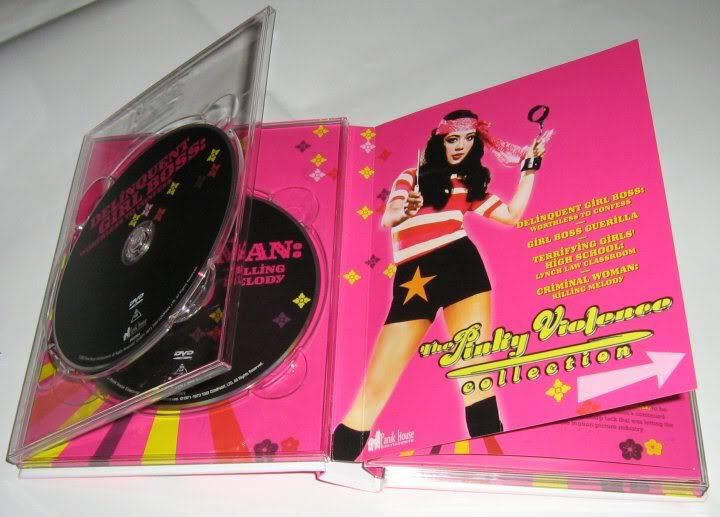 In the second picture you can see the back side of the cd, weirdly placed inside a cardboard 'page'. The fourth dvd is under Girl Boss Guerilla dvd. There's two separete disc holders (like you see in the first pick) but you can't see the one underneath from this angle. Overall a stylish looking and convenient box set that doesn't take too much space.
Here's two stolen pictures of the japanese cd release 'Koukotsu no Sekai'